Show Off Your Style and Your Alabama Pride With Laser Sharp Products, LLC
CUSTOM LASER ENGRAVING SERVICES BASED IN VANCE, AL
When only a custom item will do for a gift or as an accent in your home, place your order with Laser Sharp Products, LLC. Like all of our products, your special item will feature quality and originality that you won't find anywhere else. Browse our website to see some of our featured products and give us a call at (205) 764-8751 to place your order.
We laser engrave acrylic, wood, glass and nearly any non-metal material, but our favorite material to engrave is good ol' Alabama wood. Personalize your item with your own design or show your Tide pride with an Alabama-licensed product. Call today for more information.
More items than you can imagine. If you can imagine it, we can probably make it!
At Laser Sharp Products LLC, we carry something for everyone. Find something to brighten your home or a gift to brighten someone's day. Call today to place your order for customized items, such as:
Clocks
Coasters
Game boards
Key rings
Knickknacks
Plaques
Puzzles
Signs
Wooden baseball bats
Custom items from Laser Sharp Products, LLC are great for businesses, too. Call today to place an order for signs, clocks and other items with your business logo on them.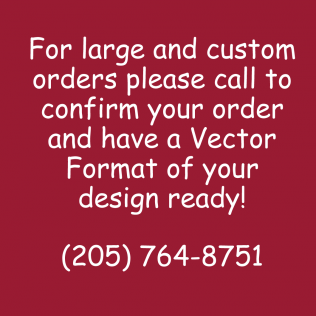 24 hour turnaround time on most orders
Call today to place your order and we can have it headed your way in as little as 24 hours. Or if you aren't sure exactly what custom piece you want, give us a call and talk to Mike or Betty about custom products and designs. We look forward to hearing from you and hope to add a little touch of Alabama to your home.